Faster Repair Times - Often SAME DAY
Lower Cost
We Repair Every Brand
$25 Round Trip Pickup and Delivery Available!*



*Smaller walk behinds inside service area. (5 mile away or less, $5 a mile after that) price includes pickup & delivery(Riders & 2-stage snowblowers $50, (5 mile away or less, $5 a mile after that) price includes pickup & delivery

Unlimited Blade Re-sharpening
All Season Long -
If we sharpen your blade, or you buy a new blade from us, and we will resharpen it at no additional cost, all season long. No other shop offers this as a free service. Just bring your machine back anytime, and we will re-sharpen the blade as many times as you like, usually while you wait.
Free Winterization with Any Tune Up -
The most common reason for a mower to stop working, is improper storage. Gasoline left in the machine - even just a little, even if you run it until it dies - can damage the carburetor and prevent it from running correctly or not start at all. So if you have a tune up done at Modern Mower, we will winterize your mower and get it properly cleaned out for storage at no additional cost with any tune up. No other shop offers this as a free service. (typically the cost is around $30) PLUS if we do winterize it for you, we will additionally guarantee that the unit will start the next season - as long as you use new gas when ready the next year.
Faster Repair Times -
The time it takes to get your equipment completed is often MUCH faster than most other shops. We can often get equipment finished in 1-3 days for common problems, maintenance or tune ups. We can even get many done the same day, if you bring it in early.


Not Just Fixed, Dependable Again!

We work on EVERY Brand.

We work on everything from AYP, Bolens and Craftsman, to Toro and Yard Machines, and everything in between, we work on them all. Some shops do not work on brands like Craftsman or Yard Machines, which doesn't make much sense, since they work on the same machines with different names. We even fix the Stranger Chinese made Brands.

Lawn mower repair

made easy - just bring it in, we work on it here.


Low Cost Pickup and Delivery Service is Available



At Modern Mower we know not everyone owns a truck, and lawn mowers are not always the easiest things to transport. Therefore, we offer a very low cost pickup and delivery service for our local area. Just $25 round trip within 5 miles, and $5 a mile after that . (riding mowers and larger equipment such as 2-stage snowblowers at $50 within 5 miles, $5 a mile after that.) Combined with our lower cost for services, we often cost less even with the pickup and delivery charge.

Call us with your address for a quote and to set up a time.

Lawn Mower and Snow Blower Repair with You in Mind.

At Modern Mower, we make getting your

Lawn Mower

or

Snow Blower

Repaired as easy as we can, without the need to worry about being over charged, or if the work was done correctly. Just bring or schedule a pickup for your lawn mower or snow blower, tell us whats happening, and we will get it diagnosed quickly - sometimes within minutes, and let you know what its going to cost before we do any work. If you come in for a tune up or maintenance, we offer some of the most state of the art services at lower costs. From no start problems, carburetor work, replacing recoil ropes, tune ups, and much more.

Not just fixed, dependable again!

We Fix Your Stuff.
We Mean It.


With

lawn mower repair

, or

snow blower repair

, it is important not only to get the machine running properly again, but to get it working

dependably

again.

Modern Mower Uses the

Latest Techniques

for repairing your machine. At Modern Mower, we do the extras that insure dependable operation. Things Like Replacing damaged or contaminated fuel lines and using ultrasonic cleaning on EVERY Carburetor we take apart to fix. The result is that machines that leave here don't often come back again right away for the same problem. We guarantee all of our work here at Modern Mower - almost every small engine repair shop does -

but is a guarantee really as good as getting a machine fixed right the first time, preventing you from the hassle of loading it back up and bringing it back in?

We get it done, and then its DONE. If in the rare event that after all that, you still need to bring your machine back in, it goes right to the front of the line.

Call Us Today
(586)553-9384
Modern Mower is located on Mound Rd., just north of 15 Mile, on the east side of the street (northbound side).
Just look for our sign, next to our neighbor "Kreative".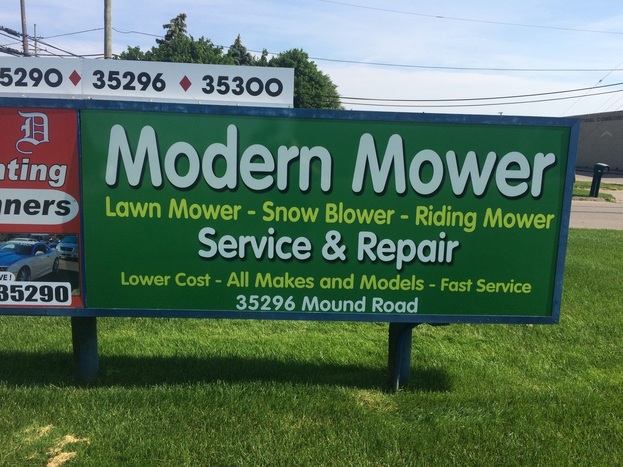 Modern Mower
35296 Mound Rd., Sterling Heights, MI 48310
(586)553-9384