We Started Young, and Love What We Do.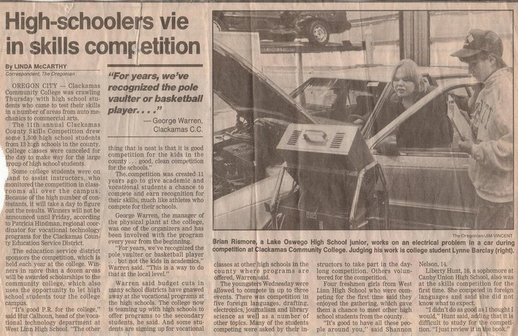 My name is Brian Rismoen. I am the owner of Modern Mower, and I must confess I am a bit of a geek when it comes to engines, electronics, and just about anything mechanical. I started taking things apart at about age five, and started putting things back together at about seven. The picture on the left is a newspaper article written about a high school competition I competed in as a junior in high school in 1989. That's me in the picture hanging out the car door as the judge on the right evaluated my work. They spelled my name wrong under the picture, but i didn't care. It was a big deal back then to make the newspaper, at least to me.

One of my first jobs in high school was as a mechanic at a moped shop. The owner heard i was modifying mopeds for the other kids, and he offered me a job getting paid to do what i was already doing for free. I was also making my own radio equipment in my bedroom, getting in trouble for distorting the television. I also had a job working at a local computer store. If its mechanical or electrical I just had to know how it worked.

I did not realize as a child, that having the "mechanical mind" to look at something and see the way it works, and fix it was not something everyone could do. I did not know that it was unusual to be able to take something apart and then be able to put it back together without being shown how. It's just something I have always seemed to be able to do. Now i can recognize this in other people, and every one who works at modern mower has this ability.

Now, as the owner of Modern Mower I get to own all the cool tools and work on stuff all day and get paid for it. I am exactly the sort of person I would want to work on my own equipment, and that's the way I care to run my shop. All of the people who work here will tell you this is where they would go if they didn't work here. We do our best for the customer, and we have a lot of fun doing it most of the time.

---
Modern Mower
35296 Mound Rd., Sterling Heights, MI 48310
(586)553-9384